HERSTORY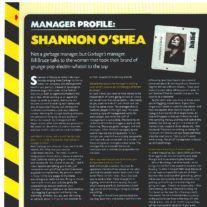 SHANNON O'SHEA
FOUNDER, SOS MANAGEMENT
Innovative founding manager of Grammy-nominated, multi-platinum GARBAGE and critically acclaimed 8mm, Shannon is also one of the world's first producer managers. She is known for a unique philosophy of encouraging career diversity for long term success. In her words, "I often see potential in people before they do. Sometimes it takes a while to coax it out, but it is always worth the wait."
Her groundbreaking clients have included Sean Beavan (NIN, MARILYN MANSON, NO DOUBT, SLAYER, SHINING…), Butch Vig (NIRVANA, SMASHING PUMPKINS, GREEN DAY…), John Fryer, (COCTEAU TWINS, STABBING WESTWARD, THIS MORTAL COIL, NIN…), Danny Saber (U2, ROLLING STONES, BLACK GRAPE, DAVID BOWIE…), John X (PINK, U2, ROLLING STONES…), Jack Dangers (MEAT BEAT MANIFESTO), Stephen Lironi (HANSON, ALTERED IMAGES), Marc Waterman (ELASTICA), Tony Visconti (DAVID BOWIE, MOODY BLUES) and the late Jimmy Miller (ROLLING STONES '68-'72, STEVE WINWOOD, PRIMAL SCREAM…), to name a few.
O'Shea founded SOS Management in London in the late 80's. While pop and grunge reigned supreme, she looked to the underground for inspiration to bring intrigue to her multi-faceted producers' careers. She developed a knack for bringing together unlikely but kindred forces – such as legendary Jimmy Miller of ROLLING STONES fame and the UK alternative scene with bands like PRIMAL SCREAM and THE WEDDING PRESENT.
When she read in an interview that NIRVANA producer Butch Vig loved pop and keyboard music, she reached out to him about blending grunge guitars with industrial sonics and pop sensibilities. Labels were hesitant to hire Vig for non-grunge artists, so O'Shea pitched him for remixes – while sending him music by artists like Jim Thirlwell and Ministry as references. Creating the sounds re-united Vig with collaborators Steve Marker and Duke Erikson, who also joined O'Shea's roster.
Following a series of groundbreaking remixes with artists such as EMF, U2, NIN and House of Pain, she scoured the globe for industrial bands with crossover potential that Vig and Marker could produce. However, aside from Nine Inch Nails, industrial bands were an anti-song format and she grew increasingly frustrated. Butch started to tease her, saying "maybe we should start our own band." O'Shea loved the idea. The more she pushed, the more they thought about it, but remained reluctant. They started to take it seriously when O'Shea sold a label on the idea on the basis of the remixes and some unorthodox marketing concepts. With no music, singer or touring commitment, she secured funding that enabled them to dedicate time to writing songs and finding their forth member, Shirley Manson.
An outspoken advocate for artist's rights, she was a member of the influential inaugural steering committee of the UK Intl. Manager's Forum (now MMF) and the only manager to be invited to participate on the producers-only Record Producer's Guild (US) steering committee.
Influenced and mentored by luminaries such as Peter Grant (Led Zeppelin), Ed Bicknell (Dire Straits) and Paul McGuinness (U2), she became a lively panelist/speaker on the international field, appearing for South By Southwest, In The City (UK), Intl. Manager's Forum, the Producer's Guild (UK & US), San Diego Music Thing, USC etc., has made many radio appearances and was featured in VH1's "Behind The Music – Garbage".
After laying the foundation for GARBAGE in the UK, she moved SOS Management HQ to Los Angeles in '95 to better accommodate worldwide strategy.
In 2005, O'Shea joined forces with long-time superstar producer/mixer multi-instrumental client, Sean Beavan, to launch 8mm with his multi-talented wife, Juliette. One of the first artists to embrace DIY and licensing, 8mm became championed by luminaries such as Nic Harcourt, Geoff Boucher, Kevin
Bronson, Jason Pettigrew and Antiquiet. They became one of the most licensed bands in the industry ("Underworld: Awakening", "Dirty Little Liars", "Mistresses", "Grey's Anatomy", "Nip Tuck", "Nikita", "One Tree Hill", "Shark", "Cold Case", "Moonlight", "Mr. & Mrs. Smith" etc.), and their powerful live performances and intriguing videos have earned them a hardcore following.
8mm's last album, "Between The Devil & Two Black Hearts", has been described as Led Zeppelin meets Massive Attack and Fleetwood Mac at a rave with June and Johnny Cash. The massive critical acclaim helped facilitate their debut national tour, together with a Kickstarter campaign, that attracted diverse support from a creative sector, from Marilyn Manson to actress Jill Hennessy to acclaimed author/poet, Margaret Atwood and director TJ Scott.
Meanwhile, frontwoman Juliette Beavan made her acting debut in 2014 in indies, 'June' and 'Death Valley' and most notably recently appeared in 'Gotham'. Sean Beavan also successfully expanded his wings in 2015 into film scoring and sound design. They plan to record an 8mm EP soon, which will be a return to their trip-hop roots.
O'Shea maintains a credible and selective quality over quantity roster, which includes 8mm and producer / mixers / remixers / collaborators / composers, Sean Beavan, and Ben Rosen (MARILYN MANSON, GRINSPOON, 8mm); and actor/director/producer Juliette Beavan.